The ambiance here is cozy and welcoming, not pretentious at all. I was pleased to see people actually sitting in the swings by the bar. There is also a porch swing in front of a fireplace and a couple sat there, enjoying drinks and appetizers as they slowly swung back and forth. I wouldn't eat dinner from that seat, but I can see myself sitting there with small plates. But, I'm over 50, so sitting in a porch swing by a warm fire will likely force me into a nap.
Here is my thoughts on our meal.
TL;DR The Porch will have you craving short ribs at 10 o'clock in the morning.
I started with the PB & Nutella Shaft. It was my first time trying peanut butter whisky. It did not disappoint. Be careful though: this is one of those drinks where you can't taste the alcohol and three drinks later you can't find your mouth with your fork. 10/10
OUR APPETIZERS

Patatas Bravas: bricks of hash brown potatoes topped with tomato jam. Garlic aioli and chili oil smeared on the plate. Well done and exceptionally crispy. My first thought was "hash browns? really?" but then I dug in. The jam, aioli and oil mix perfectly. As you can see from the photo, these are very well-done. I'm a weirdo who likes burnt food (not popcorn, though. Never popcorn), so this satisfied my crunch barometer. 9/10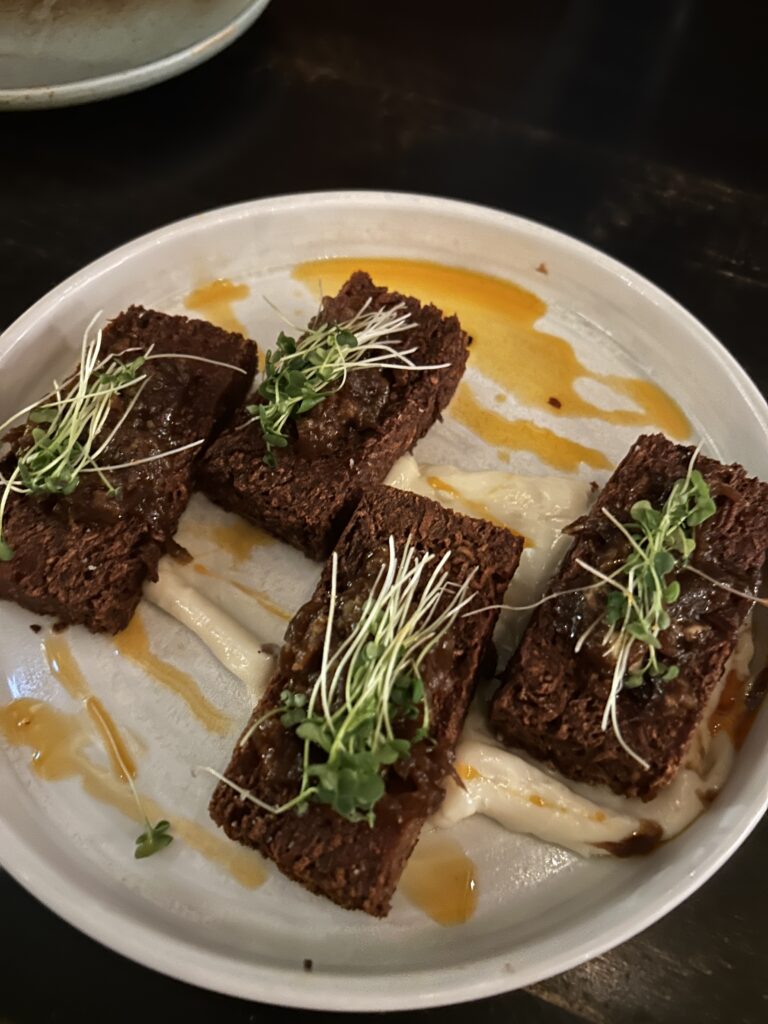 Humboldt Calamari: started flat and heat built up after a few bites. Honestly nothing special, so I won't waste the words here. 4/10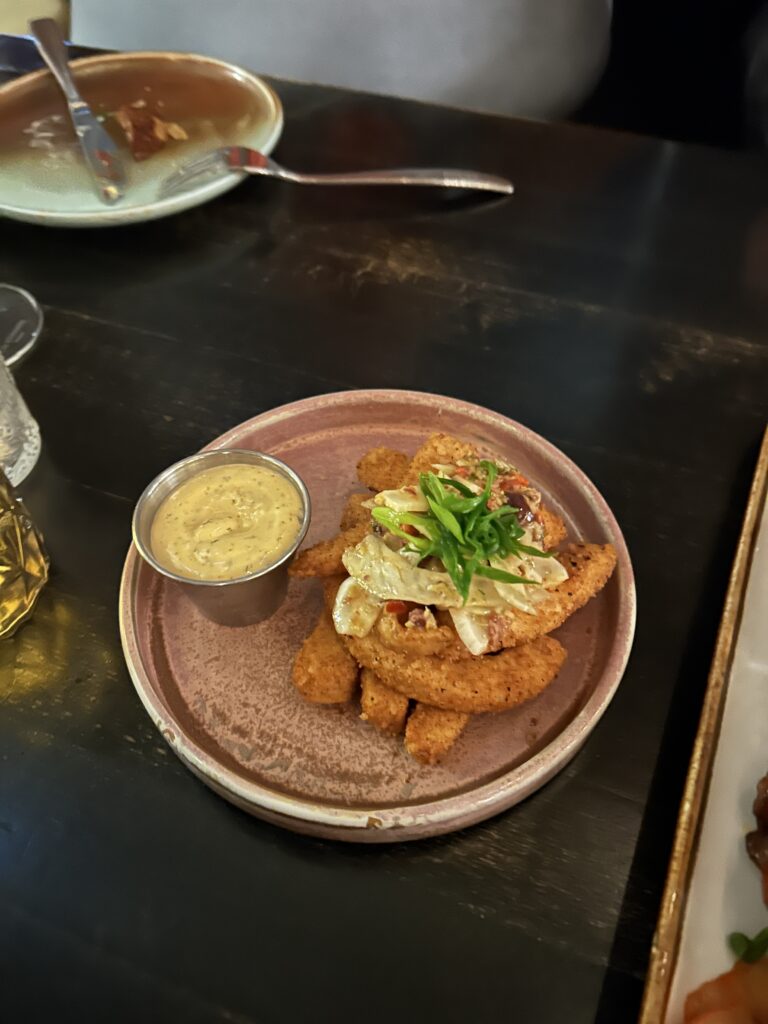 KFC (Korean Fried Chicken) Wings: Not the most beautiful presentation, but 100% finger licking good. The sauce presents with a sweet heat and the wings were nicely fried. The kimchi looked so sad on the plate, reminding me of pickled ginger thrown onto the plate at the last minute. I did not eat it, but my dinner companions said it was tasty. I'm not there for the kimchi anyways.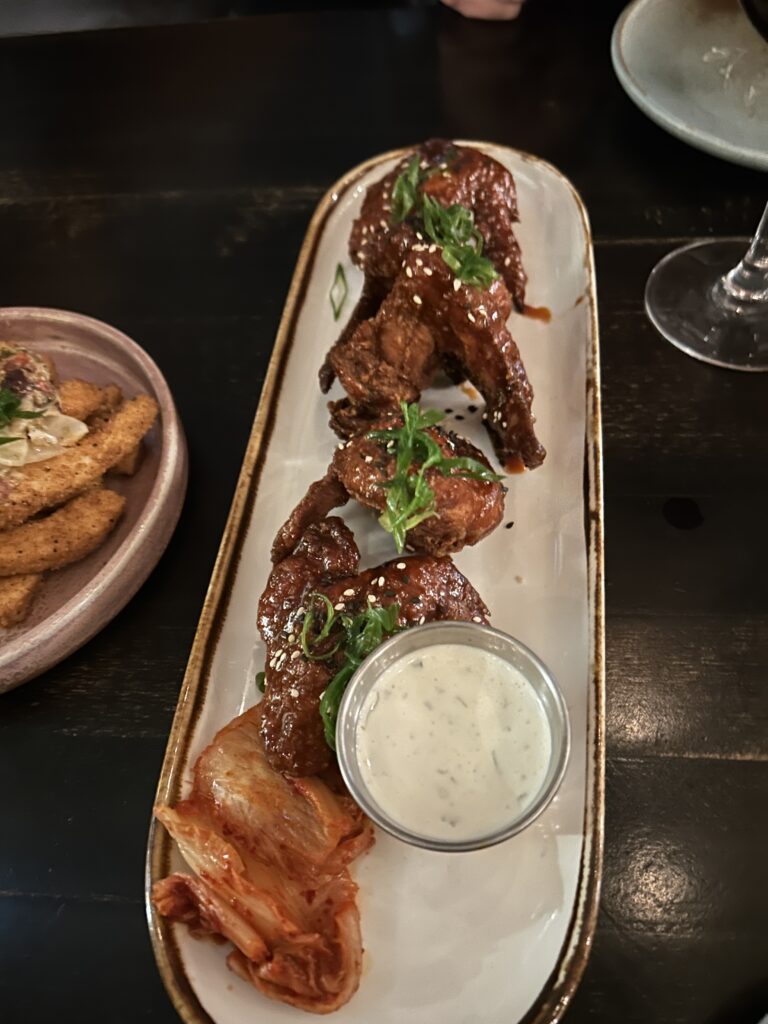 ENTREES
I ordered the Braised Short Rib, despite knowing my husband already makes the best ones. I was so excited to dive in that I messed up the photo. Part of the appeal of short ribs for me is the colour of the sauce. I can tell just by looking if a sauce will have the right texture and caramelization. I think the photo shows that this sauce was right on the mark. And the beef was pull-apart tender and really did melt in my mouth. I felt like I was cheating on my husband, but I didn't care. 10/10
My husband ordered the Lamb Tagine, which is spelled properly online, but misspelled as Tangine on the physical menu. All is forgiven because they nailed the flavour. I don't know how they did it, but I could taste the cumin, cardamom and ginger as if they were flying solo in this dish. The other spices were there, but like back-up singers to Tina Turner dominating the stage. Fluffy couscous and so-so green beans finished off the dish. 10/10 (I refuse to knock off a point for the beans, that's how good this was. Oh, and I don't even like lamb and I still dove in for a second and third taste).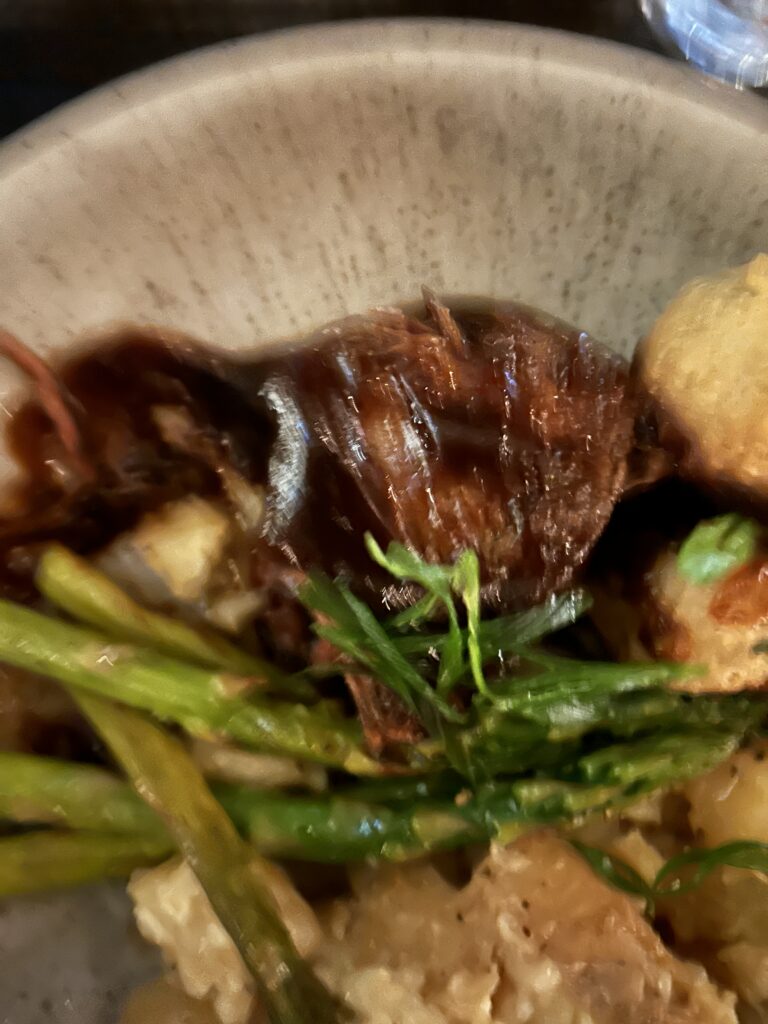 My friend ordered the Grilled Filet and raved about the truffle fries. I tasted a few and then we gushed about them so much, it didn't occur to me to ask about the filet. Which should tell you what was the real star of her meal. No rating for the beef, but 10/10 for the tastiest, truffliest fries I've ever put in my mouth.
DESSERT
On our table – Key Lime Pie, Chocolate Ganache Cake, and Chardonnay Poached Pears. The pie is deconstructed and served in a mason jar. It was just okay. My husband took one bite of the pears and grimaced, then tried to convince me to try what made his handsome face turn ugly. Uh, no. Plus, the gastrique (bourbon and cranberry sauce) that took up half the plate looked like…well…you can see the photo yourself. The cake was tasty, but a little dry inside. I can confirm the chocolate ganache holds up well in the fridge and make a wonderful breakfast the next morning. 4/10 for the key lime, 8/10 for the chocolate cake.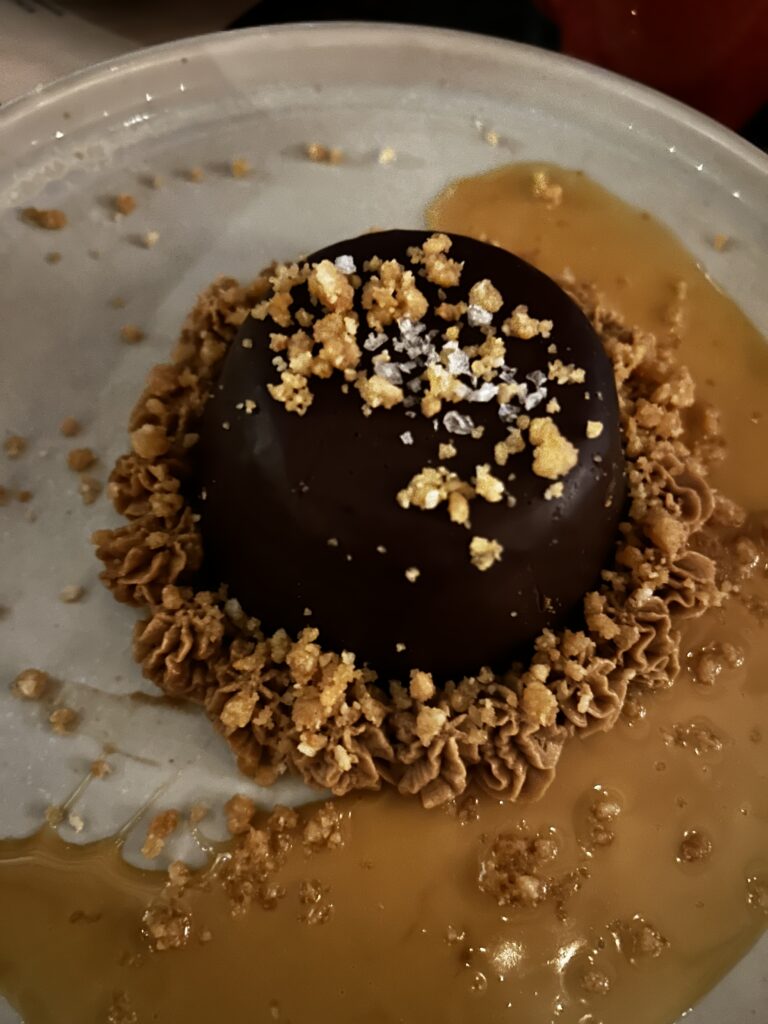 Our waiter was friendly and engaging. When asked for his take on some of the dishes, he highlighted what made them special. The GM came over to check on us as well as deliver dishes. This kind of management bodes well for morale, which we all know is reflected in the care taken in what comes out of the kitchen.
We will be back, most likely in the summer, when the roof and weather screens facing 17th Ave are open.
Overall rating 9/10.
The Porch – 730 17 Ave SW, Calgary, AB