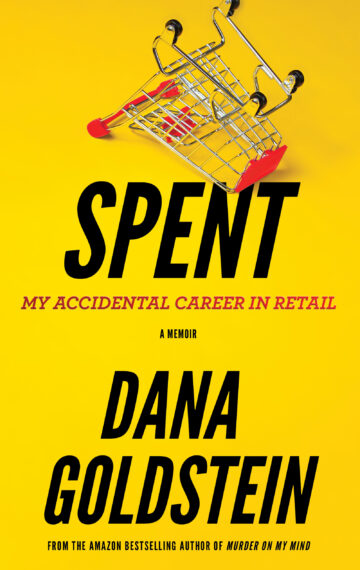 Paperback 14.99
Publisher:

Digital Shoebox Inc

Available in:

Paperback, E-book, Audiobook

ISBN:

978-1-7751438-8-8

Published:

July 25, 2022
Order directly from me
Amazon
Kobo
The latest memoir from the Amazon bestselling author of the Girl in the Gold Bikini and Murder of My Mind.
A memoir to which anyone who has ever worked in retail will immediately relate, SPENT gives readers a behind-the-scenes look into the retail world.
"I thought I was destined for great things. Turns out, I was meant to sell blue jeans."
Dana Goldstein had dreams of being a foreign correspondent, covering the news from a far off land. When she graduated from journalism school into a recession, her visions of globetrotting were replaced by the reality of needing to pay her bills and eat.
Working in retail was meant to be a temporary measure, a stop-gap on the road to her future as a journalist. Ten years later, she had found herself accidentally well into a career, lured by the steady and reliable paycheck.
But she was a crap manager, at least from the corporate view. Dana put employees first, took risks with merchandising that did not always play by the rules, and opened her mouth to call out the stupidity that sometimes trickled down from head office.
Over the course of decade, she witnessed fights among customers, stopped thieving employees, and blew the whistle on managers having sex on company time. Join her on the journey as she explores the best and worst of humanity, viewed from the sales racks and the sales floor.