While I know some people have had spectacular experiences with the online marketplace, Fiverr, I am not one of them.
I avoided the site, both as a creative looking for gigs and as a business owner seeking some creative support. Before I had a publisher for my middle grade books, I was considering self-publishing. That's how I found myself searching for a children's book cover illustrator, scanning the seemingly endless pages of profiles. I was looking for a particular style, one that I could not articulate, but I would know it when I saw it.
I spent about an hour a day for four days, saving profiles, scrolling through samples, visiting websites. With no clue about the value of such work, I didn't have a budget in mind. I figured if I fell in love with someone's style and portfolio, I would pay whatever it cost to get that.
I was looking for someone with experience, whose previous work indicated they understood how to design a cover and what would appeal to the middle grade reader. I wanted someone who could create the mood, take my vision of my main character and create him in illustrated glory. At the time, I was anticipating writing seven books in the series, so this was going to be a long game.
After four days of searching, I found the right style. The covers the artist designed were colourful and fun. The characters were whimsical, with large, exaggerated gestures and features that conveyed the right emotions.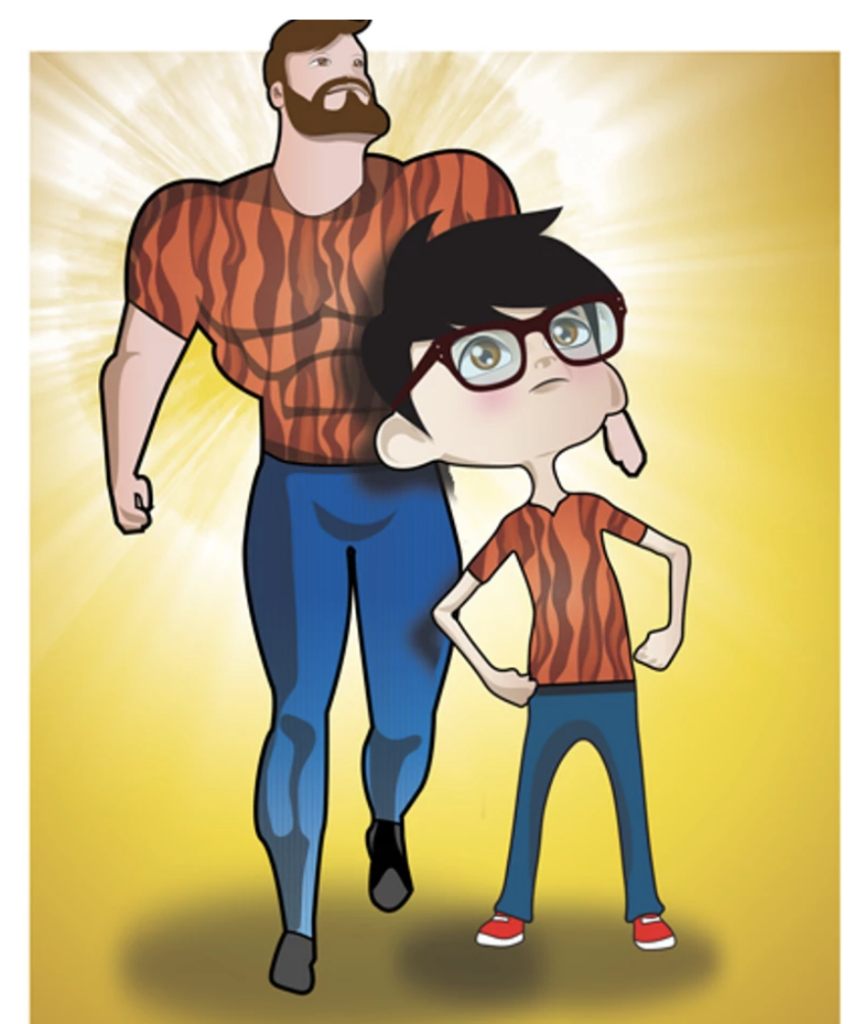 "Looks expensive," my husband said when I showed him the website and gallery of book covers. "But if it's the right style, it doesn't matter." Points to the man for always being fully supportive of my writing endeavors.
I reached out to the artist, letting him know what I was looking for.
"I am writing a series of fiction books for boys ages 8-12 and would like to know what you would charge to design the cover. I would need each book cover to represent the main character (a 12 year old boy) and the theme of each book. I currently have 7 books planned."
I held my breath, waiting for a response. I had a mental conversation with myself about how I would manage a large price tag for commissioned artwork. Within two hours, he answered me.
"I usually charge $150.00 for a book cover, including the character creation, text, design layout, and ready to print file. If we're making the all 7 covers together I can give you a better price."
I blinked. Then I blinked again. Surely there was a couple of missing zeros. If you're thinking, Dana, you get what you pay for, let me explain. I had no idea what this kind of work should cost. The prices I had seen on Fiverr made this appear in line.
I sent him the background detail he requested. "Here is the background info: The series features the scientific adventures of a 12-year-old boy named Dax," I wrote. "He has curly, sandy blond hair, eyes that change from blue to green depending on what he is wearing. The first book in the series focuses on geology. Illustrations that might be good for background are a shiny red stone with jagged edges, planet earth, the dogs, Old Faithful at Yellowstone park."
And this is what he created.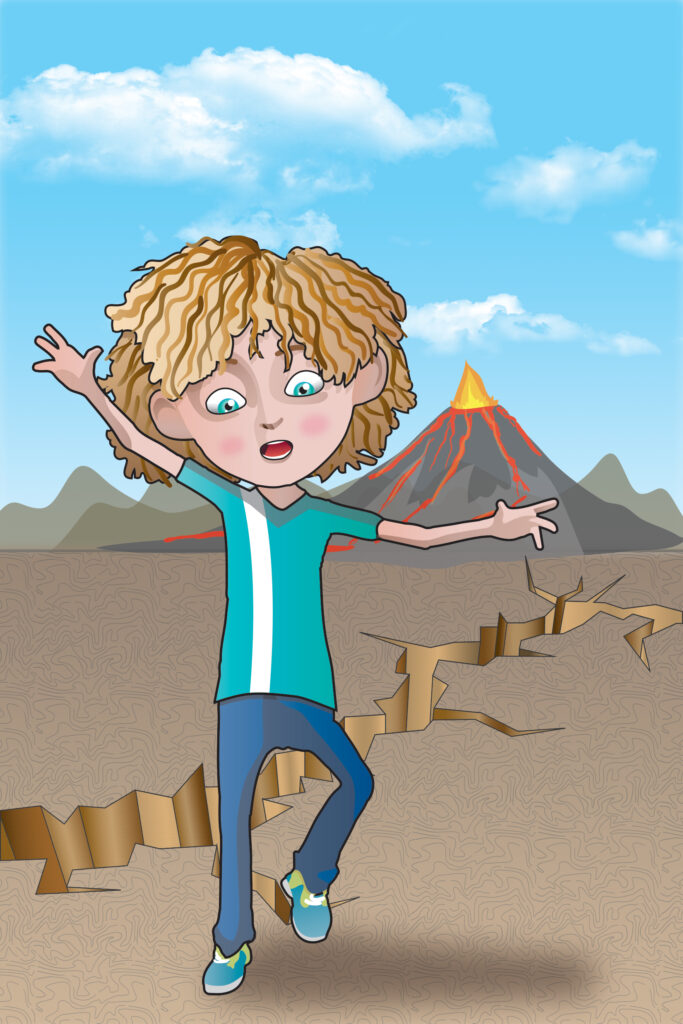 First draft of anything is never really good, but at least we might be on the same page. I decided to send him a picture of my youngest son, whose hair was the prototype for my main character.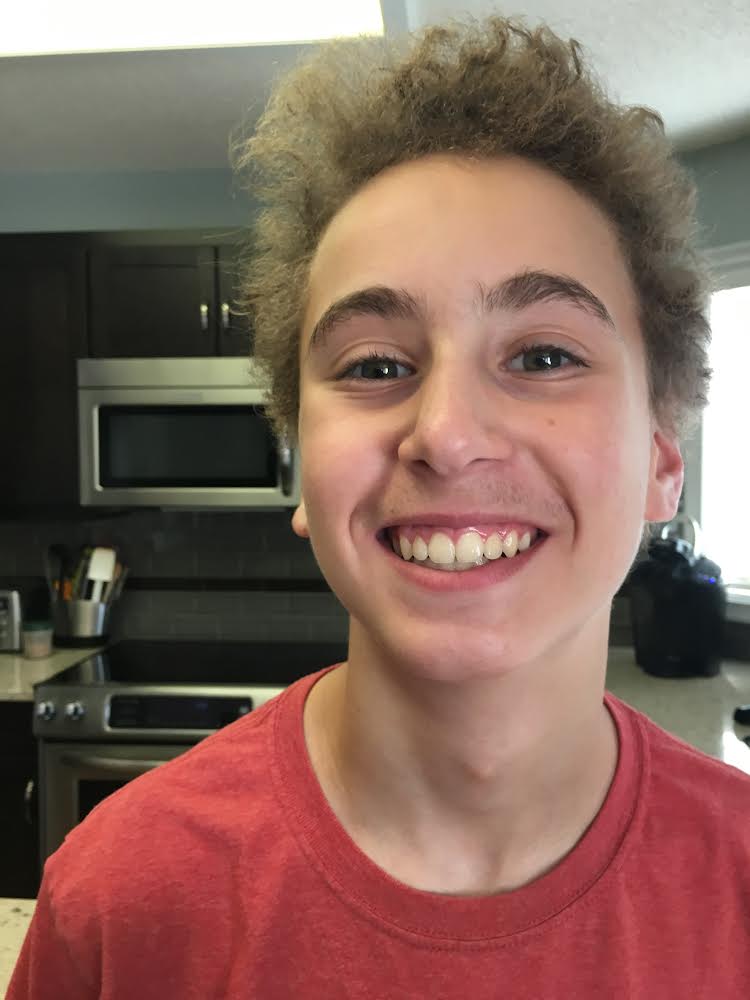 I instructed him to change the clothing to dark jeans, a t-shirt, and a hoodie. Two months later, he sends me new artwork. Hang on to your hats, friends.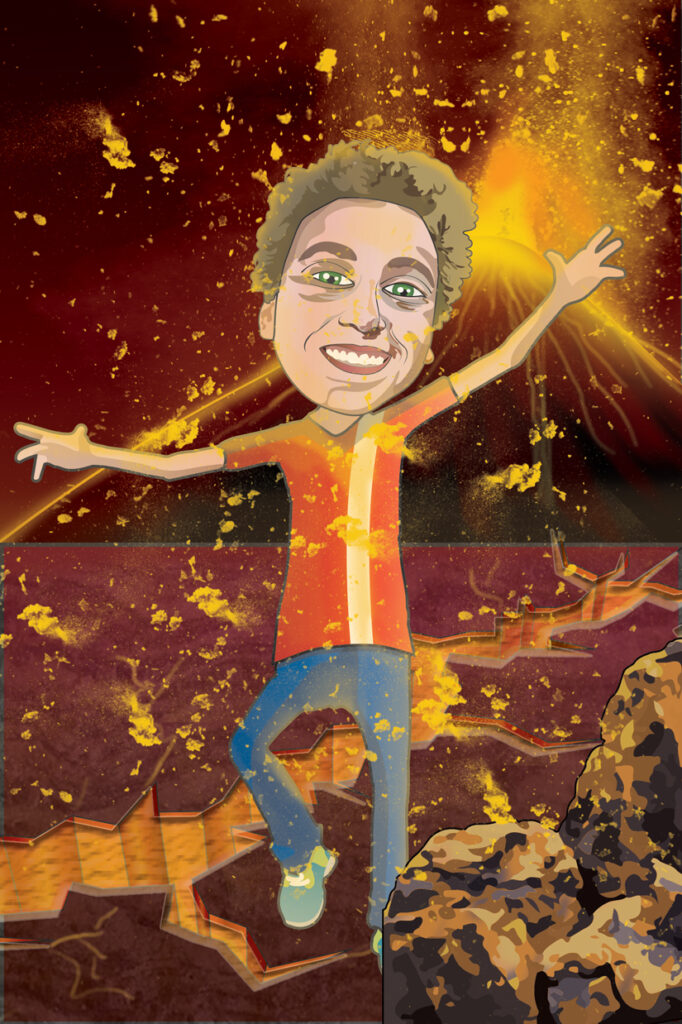 WHAT THE FUCK? How is this anything close to an original illustration? I showed my son, who, when he stopped laughing, said "He just dumped me in photoshop. And I'm missing fingers. It's terrible."
I took a few days to do laundry, because every time I looked at this image, I peed my pants. Laughing, crying, whatever.
"I think we need a softer look," I told the artist. "This kid looks scary. I like the activity of the volcano, but I'm wondering if the character should look happy as he is being showered with lava. I admit, I've not been too clear on direction, but this is my first illustrated book cover."
When he sent me the next image, I knew it was time to pay the man and cut my losses. Cleary, the skill I was seeking was not there. At least not for $150 per cover.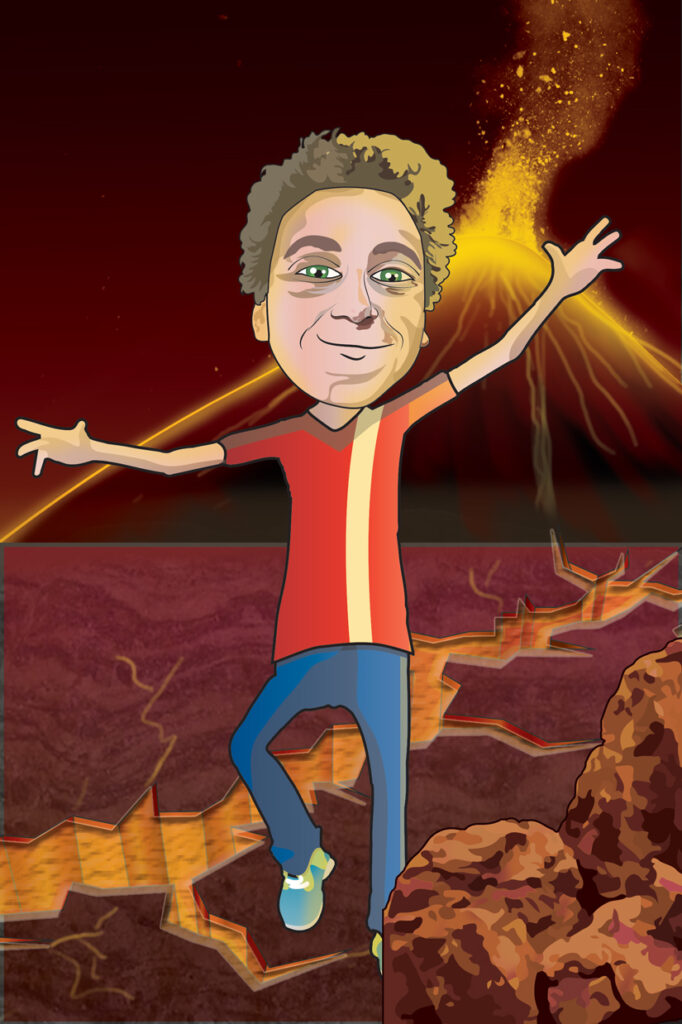 Lesson learned. At least now the cover art is for my publisher to source. Judging from their past published books, they have found someone who is not on Fiverr and not offering a discount.