When I was in my early 30s, I walked through the newly-opened Via Bellagio gallery of stores and thought, "Maybe one day I'll have the money to shop here." The stores—Gucci, Prada, Hermes, Chanel, and other couture names— all had their doors thrown open. Even the distinguishable steel doors of Tiffany were inviting people in. But I didn't have that kind of money.
On every Vegas trip after that, I would saunter past the stores, the dream still with me. Over the years, even as my income increased, the stores remained out of reach for me.
Until this year.
When my mom passed away in October 2021, I suddenly found myself with unexpected money to burn. When my husband and I went to Vegas in April of 2022, I was now in a position to buy anything I wanted in Via Bellagio. I was gravitating toward Gucci, having fallen in love with a signature handbag a year ago. We passed by the shops no less than a dozen times over the course of four days, but I didn't buy anything. I didn't even set foot in a single shop. It felt uncomfortable for me to drop $3000 on a handbag. When we went back in July, I still didn't treat myself. It was so much money to spend on a single item. I just couldn't do it and I had no idea what was holding me back. For more than twenty years, I've dreamed of shopping Via Bellagio.
Was I afraid to spend the money?
Turns out, the answer is no.
Back in Calgary, scrolling through IG stories, I came across an account who was sharing the Amazon wish lists of teachers in Canada and the US. It took about 0.0003 seconds for me to click some links and part ways with my purse money. I worked through some of the lists, buying every book the teachers wanted.
It was a no-brainer. My mother had been a teacher, and she was fortunate to never have to spend a dime of her own money for supplies. Wiping out some wish lists of teachers would be a legacy I could live with.
Growing up as the child of a single working mom, every day was a financial struggle. When there was money, my mother spent it on herself, feeling she deserved it more than I did. After she passed, I discovered a document outlining the settlement she got from my father after she sued him for not paying child support. She got the check just before I started university and amassed significant student loans. She withheld that money as I struggled to pay my rent and my student debt and put food on my table. I didn't know anything about this money until after she died.
I recognized that spite was driving me to want the purse. You can't fill a handbag with hurt and resentment.
Last week in the mail, I received a card from a librarian in an SK school. Her words simultaneously brought tears to my eyes and filled my chest with warmth. This was so much better than any fancy purse.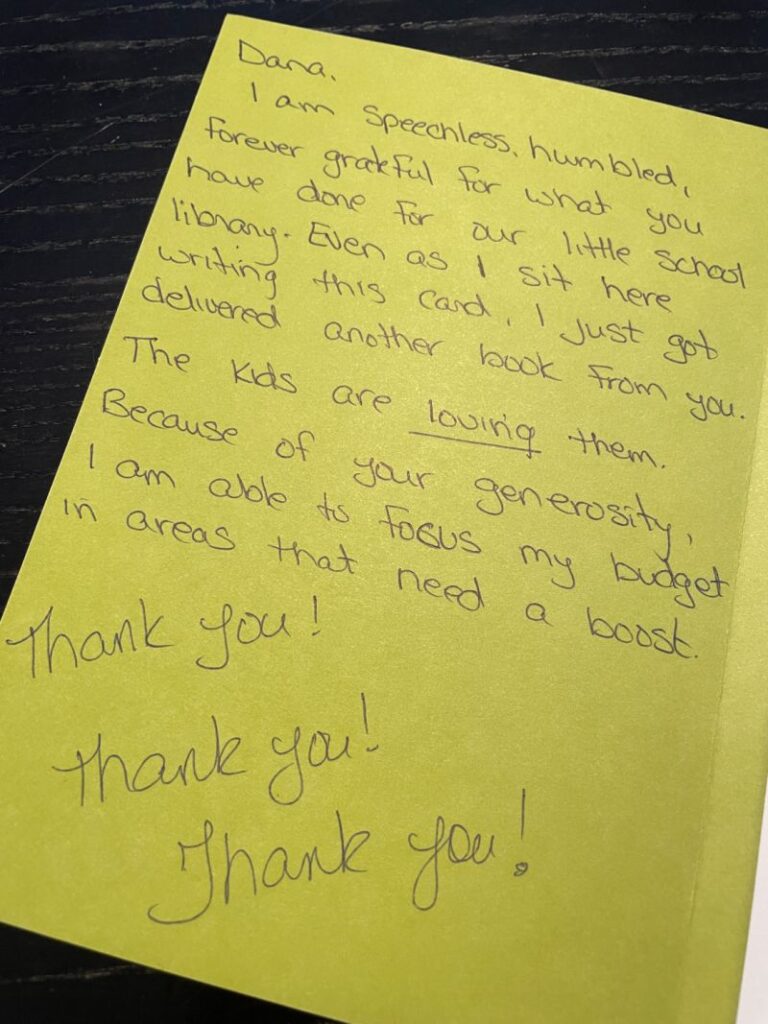 If you want to wipe out some wish lists, click the link below and scroll through.
Teacher Wish Lists